Articles
Research

Published on: 26 July 2016

Methodology

Published on: 11 August 2015

Research

Published on: 18 July 2015

Review

Research
Research

Published on: 10 January 2014

Review

Research

Published on: 18 July 2015

Research

Research
Journal Closure Notice
Journal of Computational Surgery will cease to publish on December 31, 2016. All articles published in Journal of Computational Surgery will remain fully searchable via the SpringerOpen website. If you are an author, please consider submitting your manuscript to another Springer journal by using our Journal Suggester to locate an appropriate journal within our portfolio.
Aims and scope
Journal of Computational Surgery: Computing, Robotics, and Imaging for the Surgical Platform is an interdisciplinary publication for scientists, engineers, and medical researchers, who collaborate across the fields of computer science, medicine; mechanical, materials, and bioengineering; applied mathematics, physics, and biology. This diverse publication is rooted in the objectives of the CRISP (Computing, Robotics, and Imaging for the Surgical Platform) Initiative: to cultivate engineers and scientists in the use of medical imaging, robotics, simulations, and information technology for surgery. The journal seeks outstanding cross-disciplinary work that defines and develops the field of Computational Surgery and improves the process and outcomes of surgery. The focus of the journal is computational science, including, but not limited to, such areas as:
Modelling and Simulation to predict surgical outcomes
Real time simulation to augment Operating Room (OR) procedures
Design of new medical devices to meet procedural needs
Integration of patient specific data to procedural planning and outcomes
Multi-scale modelling of surgical disease
Modelling of clinical trial design
This journal supports further development of cyber-Infrastructure in the operating room. In particular, this journal presents computational methods to optimize the integration of procedural technologies, informatics, and human factors to maximize performance in the operating room/procedural suite.
The journal publishes original research results and reviews, as well as special articles related to educational and technical research on interdisciplinary issues of interest to both the engineering and academic surgical communities. The publication is an outgrowth of COSINE (Computational Surgery International Network http://www.computationalsurgery.org/) which brings together an international group of academic and industrial researchers, universities, and corporations to further the work of a new breed of engineers and scientists who can work with physicians and surgeons in the development innovative medical practices.
Editors' Quote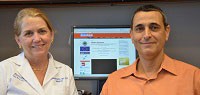 As the digital revolution transforms the working environment of the surgeon, close collaboration between surgeons and computational scientists is not only unavoidable but essential to harness the capabilities of both fields to optimize surgical care. We believe that this new collaboration will allow the community to develop not only predictive models for the outcomes of surgery, but also to enhance the process of surgery - from procedural planning and performance of operations, to design and management of the operating room environment and procedural technologies, from modeling of surgical disease to prediction of the healing process - investigations that will potentially provide great impact on patient care that extends far beyond the operating room. In this publication we seek to engage and inform the surgeons and computational scientists who work in this young and expanding interdisciplinary field.